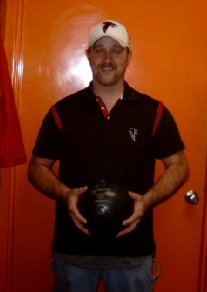 Questions/comments can be sent to Eggman at mark@bowlaway.com
December 11th...
Sorry for the silence on the website these past 2 months. Plenty happening, just no time to address it here. You know how that Paulie works me like a rented goalie <grin>. We had 4 300s these past 2 weeks to add to the list. December 1st saw both Andy Phillips and Kevin Pickering do the deed. The next night, Stacy Proudfoot checked in with his second career 300 score. The following week, Bill Botjer shot his 11th career 300 and Bob Mack had his first. Gheesh, when it rains it pours. Pictures can be seen by clicking on the pics at right.
October 6th...
Our ol' buddy, Tony "Bunman" Adams shot his sixth career 300 tonight in the Hoops Accounting Classic with scores of 248-300-181-729. Now, you will notice that the picture at right is not our hero, but his brother Mike Adams. There is a reason for this. Tony is a pretty ugly looking fellow so to avoid getting complaints of ogres on the website, I opted to go this direction. Not that Michaels any prize, but he is a vast improvement over poor un-gorgeous Tony.
September 22nd...
Scores are coming after the first 4 weeks of the season. The season's first 2 honor scores were shot with Scotty Helberg's 300 and JJ Westhoven's 821 on Sept 15th and 22nd respectively. Click on the picture or "Award Pics" button to see the details.
August 1...
Here we go. League meetings will be this week. Where'd the Summer go? <sigh> Typical. I didn't get half the stuff done I wanted to do, but the stuff that did get done is pretty cool. The new scoring is pretty awesome. It's a bit aggravating at times when something you've been doing for years with the scorers is different and you have to learn something new. You know how we "old farts" are. Anyway... here's a list of the leagues with their meeting times and dates. It's 3 free games after the meeting so bring your equipment.
July 11th...
We have the monitors hung and the lanes are ready for oil. Click HERE to see the new pics that have been added. The bottom 5 are new as of today.
July 5th...
It's been a busy buncha days since the last league ball was thrown on June 30. Arnie and Mark Sickmiller and the boys have been busy cutting the lanes getting prepared for next season. Paulie and Matt have been hackin' away at the old brackets, preparing for the new color monitors going up in another week. And of course, we have pictures galore of all this fun stuff. Click HERE to see the work in progress.
June 12th...
True to our word, we nabbed pics of Randy and the boys at the ABC's. Click here for some great fun.
June 8th...
We, well... Felix and Bob..., were able to see a couple of the boys bowling at the ABC Nationals this past week. Shown at right is Brad West getting congratulated after his one and only strike during the tournament.. <grin>. Click on the picture to see all 8 of the pictures the guys grabbed during their tournament play. Randy and da' boys head out early tomorrow for their flight to the "Land of Moneymaker" to take their crack at an "Eagle". Details to follow.
May 8th...
The 25th Annual River City Merit Tournament has come and gone. I was a bit disappointed with the total numbers but all in all not too bad. We had 68 participants this year and a good time was had by all. We raised the men's division to 199 and under for the handicap division, it was 189 last year, in an effort to balance out the size of the divisions which has traditionally been almost two to one scratch. It certainly did the job, as more were in the mens handicap than scratch this year. Not a bad thing, really. Randy and I are considering dropping the ladies scratch division next year and making it entirely handicap. There just haven't been that many lady scratch bowlers the past couple of tournaments. Anyway, enough prattle. Here's the final results. Thanks everyone.
April 17th...
I know I've been a bit lax on keeping up with the Splitzter archives these past 5 weeks. I just updated them to current status. Sorry about the delay.
March 29th...
The Henry County Singles/Doubles is finished. I have all the unofficial results but Clare was in today and said he'd have everything in by Tuesday night. Therefore, I'm going to wait a day to show the REAL official standings. Look tomorrow for a new message here announcing the posting.
March 23rd...
Whew.... just finished the web-pages with the Pepsi results. Here you go... www.bowlaway.com/pepsi.htm Thanks for your patience while we put things together on this.
March 18th...
We just finished the Pepsi District this past weekend. Shirley has told me that she will have results to me shortly. She is having computer problems so we'll have to see when things come down the pipe. If you're looking for results, here's what you need to do. Click on the E-Mail button above and send me (Mark) an email stating only "add me to the email list for Pepsi." There's a contact list I'm building so that once I have something, I'll email the page to those who emailed me. That saves you checking back a bunch and nothing new to see.
February 24th...
I just received the final TEAM EVENT results for the Henry County Mens' from Clare Valley, tournament guru. The results can be found by clicking on the "Tournaments" Button above.
February 18th ...
I got a bowling lesson Wednesday night. This is the only time I can remember getting beat by 170 pins & loving every minute of it. JJ Westhoven was plain "ON FIRE" in the Classic league tonight. Starting with the first 10 strikes for 286, he followed with a 279 then topped it with a 290 for a new Henry County high series of 855. It was a sight to behold. I'd have paid $5 to watch except that I had a front row seat. The pins were dancin' and he was throwing as well as a body can do it. I just wish he'd have waited a week <sigh>. Awesome bowling, JJ. That's Bradford on the left (802 from Saturday), JJ on the right.
February 15th ...
I couldn't believe my eyes. Brad West as on fire during the Primerica League. I kid you not, there wasn't a bad ball in the bunch. Starting with a 279 in game one, Brad followed with scores of 268-255 for River City's second eight of the year with 802. Brad needed 253 in game 3 to lock it down, so he just threw his first 7 strikes to get the job done. VERY nice bowlin' there, Bradford.
January 8th ...
Wow... the ladies had a big night tonight. Sherri Beck took over the lead on ladies hi series in the county with games of 246-190-258 for a 694 series. Karen Zumfelde had a consistent night with 223-215-223 for 661. Even Bob Cannon had 11 in a row his second game. Like I said, a girls' shot tonight. <grin>
January 3rd ...
Our old buddy Tony "Bun-Man" Adams turned in his 5th career 300 tonight in the Primerica Mixed. Shooting 229-223 his first two games, Tony ran the first 8 strikes in the third game. About that time I started looking for takers at $5 a pop. Of course, I was betting FOR my bud. I won't go into detail on who's money I got, but I'm up $10 and Tony didn't see a dime of it <grin>. Atta boy, Bun-Man. Nice 752 series.
December 31st ...
Cool... Tina Bohn shot her first ever 200 game with a 206 score in the Twilight league last night. We go on and on about the big scores, and that's important. But it sure is fun when someone who has been bowling for a few years, enjoying the game just as much as the big boys, shoots their first honor score. She had a 125 average so she was 81 plus. Atta girl, Tina.
Next project on the docket for the website will be to activate the "Honor Scores" button. I'll have a list of ALL the award scores shot at the center from day one of the season. I'll update it monthly, I think. You'd be surprised just how long it is. We're talking all the 700's, 150 plus series, 100 over, etc.. I'm debating on showing it by league, by date or by name. Maybe I'll do it so you can choose how you want it shown. I'm still pondering. I think at this point we have around 130 total. I'll post it here when it's ready to go.
December 30th ...
Cool, it's fixed. The Ladies' scores come up at right as a default. Click on the "Mens High Scores" button to show the fellas. Can you believe it? I said I'd get it done by Dec 31st and ACTUALLY got it done... on time... a pure fluke. <grin>
December 29th ...
Wouldn't you just know it.... I update the NEW databases with the weekly honors and it blows up in my face. I think I overwrote 3 hours of coding with what was on the server. I HAVE to quit doing dumb things. I'm hoping to get some time tomorrow afternoon to find my boo-boo and fix it. Too bad, too. It sure looked cool yesterday <grin>
December 25th & 26th....
The "Hi School Traveling" link has the schedules and weekly results added with a bit o' graphics.
I finally got it figured out. How to do the weekly updates on high scores without forcing you to go to another page. Sure... you get a day off on Christmas... Paulie shames me into working on the webpage <grin>. Also, I changed a button above and called it "Scratch Site Trial". This is the dummy site for the new style of standings I will be using next season. Individual histories, week-by-week standings, all sorts of cool stats that YOU can customize to suit you. Pretty neat stuff. Don't become enamored with all the colors. They are VERY temporary.
December 20th....
I know... I know.... It's been 2 months since I updated this front page on the site. To say I've been busy with things isn't a very good excuse but it IS faster than last year where updates were 9 months apart. Anyway, I've activated the "Award Pics" on the buttons up top. You can also click on the pic at right to get there. We have, from left to right, Bruce Engler-Andy Phillips-Emilio Mora, Sr. The fellas each shot 300's in the Hernandez Insurance Classic exactly one week apart. Emilio's on the 3rd, Andy's on the 10th and Bruce on the 17th. That's kinda cool. I'm not sure who the big guy in red is. Might be the spot where Eggman shoots his on the 24th.
Oh... by the way.... I've updated a couple of links above. Hi School Traveling; Award Pics (obviously) & Company Party. The company party page has various pics from the most recent Campbell's employee Christmas Party held here December 7th & 14th. There are some VERY cute pics of the kids on there.
You'll notice I killed the Top Weekly & Seasonal Scores at the right of this page. I have to make these a seperate page unto themselves for various programming reasons. I'll have a button renamed at top when I get this happening. Hopefully by December 31st. I'll post a comment here when completed.